Accounting for private use of cars
Thanks to Ecologic, you will launch an automated system in your fleet for the accounting for private use of company cars.
Automatic
rules
The hourly schedule and driving mode detection system enable automation of repetitive work.
Electronic acceptance process
An automated process that enables the cost of using the car for an employee's private purposes to be legally deducted.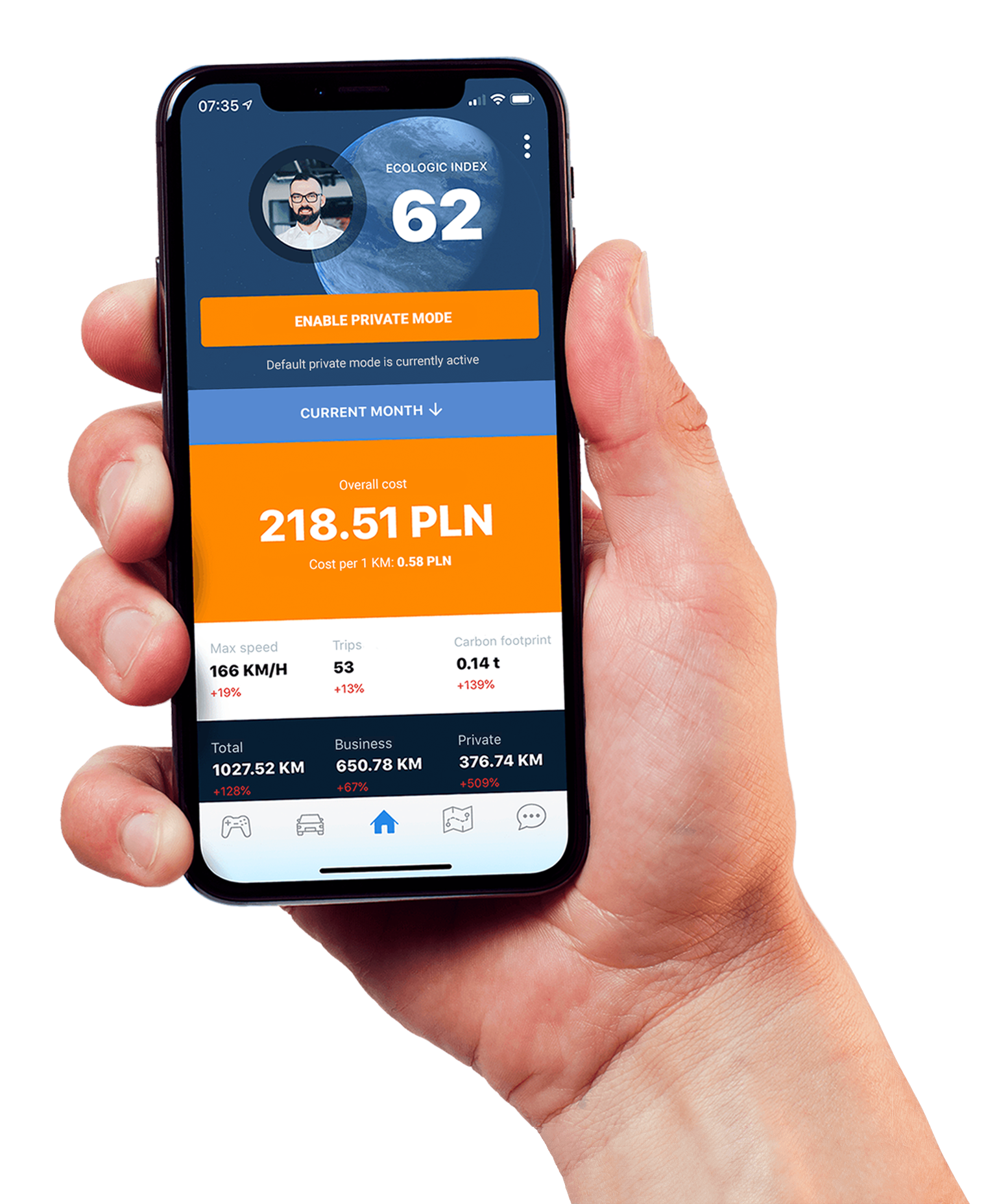 Rules and automation
Automation saves employees time spent on marking private routes and of the administrator spent on managing the entire process.
Automatic
schedule
The hourly schedule will automatically qualify trips as private if they are taken within a certain time period.
Leaves
and absences
Thanks to the import of leaves and absences of employees, you can be sure that all private routes are correctly marked.
Public
holidays
Ecologic can automatically mark private trips taken on all public holidays.
Trips
abroad
The system will recognise when the driver has gone abroad and will apply a special rate per km, which doesn't include fuel.
Dynamic
rate
The system will charge the employee for private trips according to the rate determined by their driving style in a given month.
Pools of
free kilometres
Each employee may receive a pool of free kilometres, after which they will be charged according to specified rules.
Commuting
to/from work
Ecologic will automatically detect and mark trips from home to work and from work to home.
Income
additions
The system will automatically indicate additions to income, taking into account the days on which the employee used the car.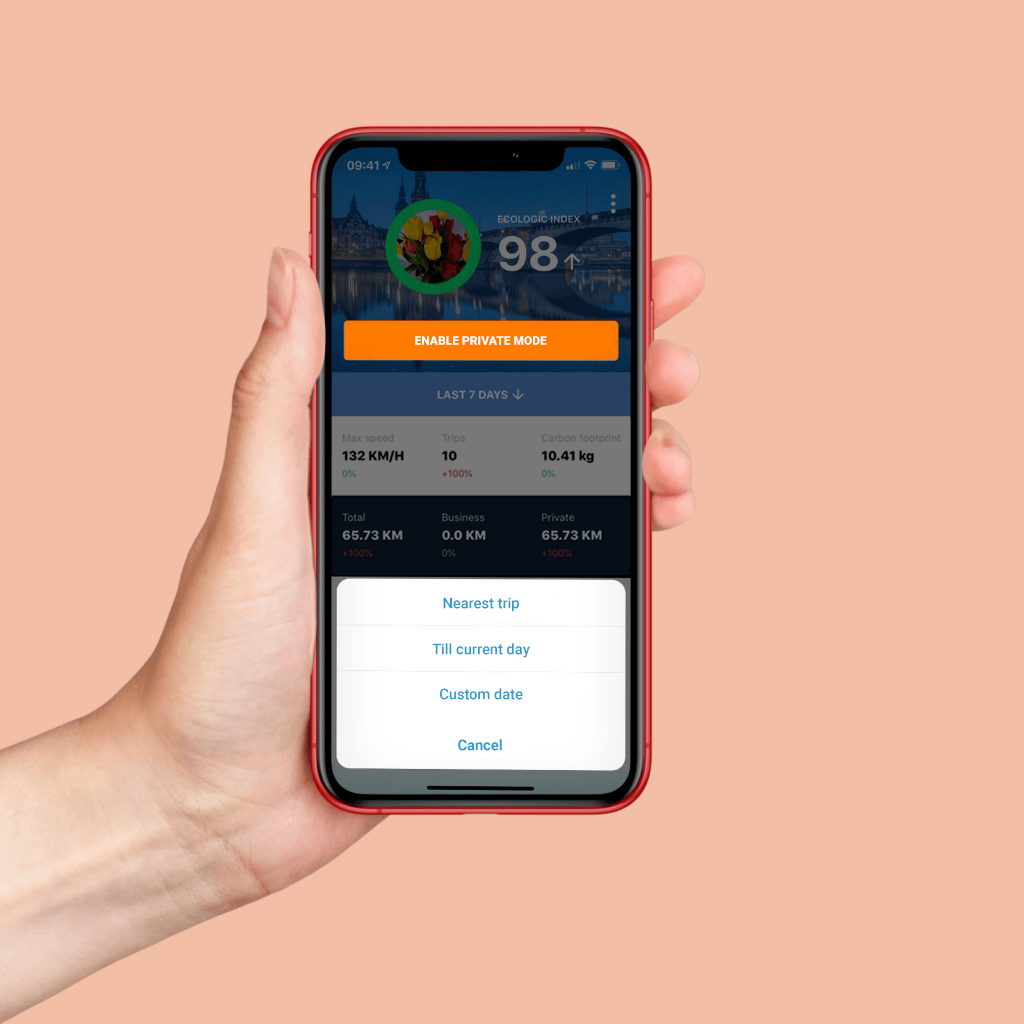 Mobile application for the driver
The mobile application is the driver's personal fleet assistant. The employee has up-to-date insight into all routes travelled, their cost and statistics regarding their driving style.
Private trip management
The driver also has the option to manually mark routes as private.
Marking in advance
The driver can activate the private mode at any time for the next route, until the end of the day or until a selected date.
Marking afterwards
If a Saturday, business trip is marked as private, just open the application and change the route to business trip with two clicks.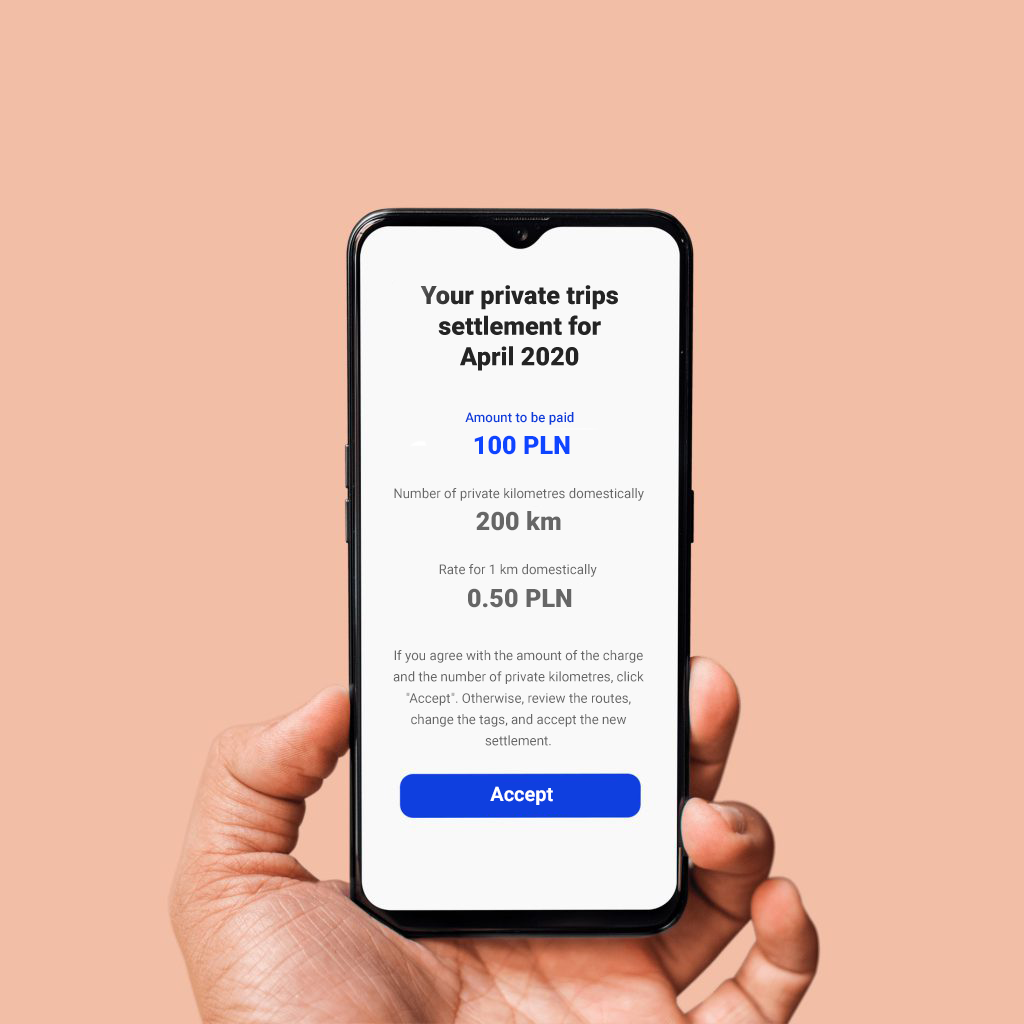 Electronic and fully automated acceptance process
At the end of the month, drivers receive their private trips settlement to be accepted.
Within 5 business days, they accept their settlement electronically.
The summary settlement goes to the accounting department and/or fleet administrator.
An employee that drives safer and more economically, pays less!
Accounting for private travelling can be part of an incentive program in according to the motto "safe driving pays off".
Each privately driven kilometer is converted according to the rate that depends on their driving style. The driver automatically sees the rate in the mobile application, after each route travelled along with the current amount to be paid for private trips in a given month!
A driver that has a high Ecologic Index will pay up to 75% less than a driver who drove dangerously.